Diamond Trading Cloud Software
If you are a diamond wholesaler, jewelry retailer, diamond manufacturer so you want to manage all parts of your business including stocks, Customer Relationships, buyers, Invoicing, Marketing, Bar-Code / RFID.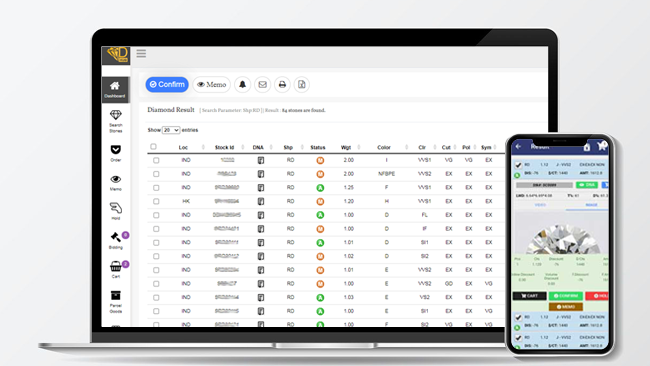 Our product Diamond Trading Software (DiamHub) will help to get more profit, accuracy in your business.
Diamond Trading Software (DiamHub) to manage diamond trading BUSINESS inventory and accounting.
Access your business data anywhere with a handy and cost-effective diamond trading cloud software. Designed especially for diamond businesses and traders. Diamond Trading cloud software is an economical diamond inventory software with unlimited users and companies, secured servers, and multi-device and OS compatibility.
Features of Diamond Trading Software
Stock Listing With Custom Price
Online Confirm Stones
Online Memo/Hold Stones
Online Bid Stones
Integrated Account
Stock Telly & Packet Printing
CRM Module - Basic Customer Relationship Management
Mobile Apps (Android & iOS)
A user-friendly cloud solution
Inventory Management
Polish, Lab-Grown Diamond (CVD)
Splitting and Mixing
Custom Price List
Stock Upload on Web Platforms
Third-Party Integration
Department and Manager Concept
Stock Check and Take
API Service for Third Party
Inventory Upload On Third Party FTP.
Stock Upload on Web Platforms like Idex, Rapnet, James Allen, Bluenile etc.
Trading and Processes
Sales , Purchase, and Returns
Memo and Consignments
Certification Process and Lab integration
Fully integrated accounts
Cash Payment and Bank Payment, Journal Voucher, Credit/Debit Notes
Office/Miscellaneous Cash Management
Cash Flow Management
Manage Bills
Currency Revaluation
Bank and Account Reconciliation
TDS (Tax Deducted at Source)
VAT/GST Integration
Financial Statement
Features
Track Income and Expenses
Multiple Language
Multiple Company
KYC Process
MIS Reporting
Document Management
Import and Export From Excel
Customizable Reporting
Scanning packet with barcode.
Globally & Customer wise discount setting.
Customer wise weekly purchase volume tracker
Security
User Rights Management
Transaction Lock and Record Logging.
User Activity log File.